Greetings and Felicitations!
Have some fun with... MY FAVORITE GHOST!
Is it possible to make love to a ghost?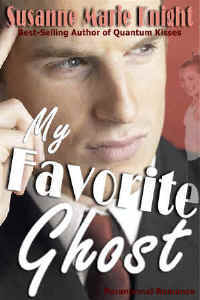 For Your Reading Pleasure
MY FAVORITE GHOST: A Paranormal Romance Novel
HIS DREAM COME TRUE
Billionaire Timothy Bolland Carter is having a very interesting day... and night. First he finds out that he has a previously unknown great grandmother, Emaline, who is not only turning one hundred years old, but who also practices Appalachian Granny Magic. Then, he receives a wake-up call--literally. A very friendly... and passionate ghost visits his bed in the dark of the night. He doesn't know the woman and she doesn't let herself be seen. When morning arrives, not only is she gone but there's absolutely no way she could have entered or departed from his penthouse apartment. She says she's a ghost, but is she really? How can Carter find her again?
HER WORST NIGHTMARE
Doctor Gabrielle (Gabby) Rossi has her life on track. So what if she's twenty-nine, single, with no special man on the horizon? When billionaire Timothy Bolland Carter arrives at her medical office to handle a cyber attack, she ignores him as if he had the plague. This man was responsible for "knocking up" and abandoning her best friend. But even though she gives him the cold shoulder, she can't help but fantasize about indulging in some late night aerobics... in the privacy of her mind, of course. A couple of intense dreams later, and then... Wait a minute! How did she get pregnant?
Available Now! Order MY FAVORITE GHOST ebook at Amazon.com.
Available Now! Order MY FAVORITE GHOST at Smashwords.com in various electronic formats.
Available Now! Order MY FAVORITE GHOST in PRINT at Amazon.com.
---
5 Stars!! A great way to start the New Year! Carter is a billionaire with a problem in bed. No, it doesn't have to do with women... then again, maybe it does. After he visits with his long-lost great grandmother--who tells him she practices Appalachian Granny Magic--his sleep problems get worse... or better, depending on how you look at it. Carter is a wonderfully appealing character who treats everyone with respect. He is interested in his nighttime ghost, but also feels a connection with a Doctor Gabby, who won't give him the time of day. Getting these two together was fun to read. Their delightful banter made me keep turning the pages. I had no idea how this unusual situation would resolve itself. Ms. Knight delivers once again!--Just Imagine Fanzine
---
---
Back to: MAIN PAGE