Greetings and Felicitations!
Have some frothy fun with...NEVER TRUST A BILLIONAIRE!
Can working girl Claressa Lauriano outwit a not-to-be-trusted billionaire who is determined to have his way with her?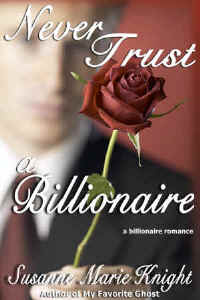 For Your Reading Pleasure
NEVER TRUST A BILLIONAIRE: A Contemporary Romance Novel
BEWARE OF BILLIONAIRES BRINGING ROSES
Billionaire Elliot Beaumont has a laissez faire attitude concerning women... or in other words, he takes them and leaves them. After casually giving one of his American Rose homegrown blooms to his company's newest employee, Claressa Lauriano, he then learns his father, the CEO, wants him to pursue her to obtain her family's small vineyard. Elliot assumes she'll be flattered by his advances, only to learn that she has a laissez faire policy as well; she wants him to leave her alone. She doesn't trust him... and rightfully so. The only way he can think of to get his hands on the grapes is to arrange to be fake engaged to Claressa. However, the longer she is his faux fiancée, the more he wants the engagement to be real. Can he convince his prickly American Rose to take a chance on a billionaire?
BEWARE OF WORKING GIRLS GROWING GRAPES
Claressa Lauriano has been working at her new job for only a month, but she also tends to her family vineyard on the side. When she shares a sample of grapes with her office, she comes to the CEO's attention... which then means she comes to the company's Chief Biotechnology Officer's attention--playboy, billionaire Elliot Beaumont. Oddly enough, Elliot suddenly bulldozes his way into her life by becoming fake engaged to her. She doesn't trust him or his motives, and why should she? Billionaires and working girls come from two different worlds. Why is he so insistent that she is meant to be his?
Now Available! Order NEVER TRUST A BILLIONAIRE ebook at Amazon.com.
Now Available! Order NEVER TRUST A BILLIONAIRE ebook at Smashwords.com
Print: at Amazon.com
---
* Trust me... this contemporary billionaire romance is 5 stars! In the battle of "Working Girl Vs. Billionaire" who is going to be the winner? Claressa takes care of her grandfather and her younger sister. Quite frankly, she minds her own business. Suddenly, she comes to the attention of the higher ups at Beaumont Industries where she works, and neither her nor Elliot Beaumont's life will be the same again. I laughed at loud at the scene where Claressa slaps Elliot--much to his surprise. No one ever told this billionaire "no" before. A very satisfying read!--Just Imagine Fanzine
* Beware of billionaires offering a single red rose! Claressa unsuspectingly accepts the flower, and ends up fake engaged to billionaire Elliot Beaumont. As she struggles to end this pretend arrangement, Elliot becomes more and more enamored of her. He wants the engagement to be real. Will he win Claressa over? I love how this down-to-earth gal unwittingly lassos in the uber-rich Elliot. That guy never had a chance! Enjoy!--S.G. Reviews
---
* I'm loving your new billionaire romance!--Reader Comment.
---
Back to: MAIN PAGE