Greetings and Felicitations!
Get away from it all! Go... OFF THE GRID!
Running from her mother's killers, Jean goes into hiding. A chance meeting with a small town's chief of police upsets not only her escape plans but also changes her life.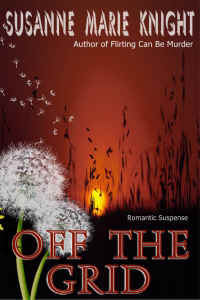 For Your Reading Pleasure
OFF THE GRID: A Romantic Suspense Novel
SHE'S GOT TO RUN
Up-and-coming New York fashion designer, Jean, discovers her mother has not only been murdered, but she had also been leading a life of crime. Whoever killed her mom is now after Jean. Changing her identity, Jean takes to the road, looking for a place to hide, a place she can be safe. Midway across the country, she stops to get gas, and instead gets a second chance. She's taken under a kind stranger's wing--Uncle Nick--and is offered sanctuary at an off the grid cabin. The hitch? Uncle Nick's handsome nephew is the chief of police who's interested in pursuing the intriguing newcomer.
HE'S GOT TO STOP HER
Chief of Police Lawrence Crenshaw is not only single, he's sworn off women. With his family history, no good ever came from a marriage union. Then the mysterious Jean comes to town. She's not only trouble, she's in trouble, but she refuses to confide in him. Wooing her slowly, he tries to convince Jean that not only can he keep her safe, but that she belongs by his side. Does a small town cop stand a chance at love with a New York City gal?
Available Now! Order OFF THE GRID ebook at Amazon.com.
Available Now! Order OFF THE GRID at Smashwords.com in various electronic formats.
Available Now! Order OFF THE GRID in PRINT at Amazon.com.
---
Another winner from author Susanne Marie Knight! Jean Walters, a young woman in trouble, must hide from her mother's killers. She plans to "go off the grid" to keep her whereabouts secret. Well, I can tell you, if going off the grid means bumping into police captain Lawrence Crenshaw, then sign me up! The chemistry between these two had me fanning my face!! This novel is a perfect escape from today's busy world. OFF THE GRID is definitely a keeper!--Norwood Reviews
5 Stars! In today's world, can anyone truly go "off the grid?" City girl, Jean, fearing for her life, changes her identity and looks for an out-of-the-way place where she can be safe. But Fate has something else in store for her. Her first day on the road and she runs into a police chief, Lawrence, who decides she's the one for him. She's as skittish as a colt, but he knows how to tame a wild filly. Who's seducing whom here?! Be sure to scoop up this one!--Twists On Romance Reviewst
---
---
Back to: MAIN PAGE