Greetings and Felicitations!
Lights, camera, action... time travel!
Modern day Willa, on-site on a movie set in England,
makes a wish and then wakes up in the year 1815!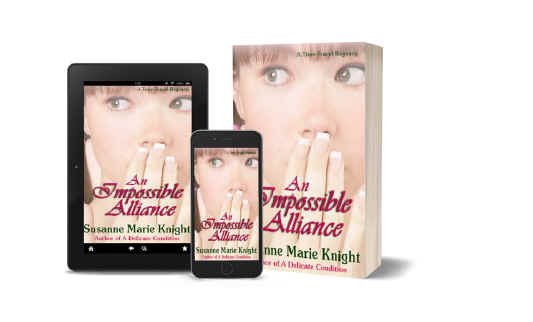 For Your Reading Pleasure
AN IMPOSSIBLE ALLIANCE: A Time-Travel Regency Romance Novel
BE CAREFUL WHAT YOU WISH FOR
Eighteen-year-old Willa Berkeley lives in the shadow of her famous actress mother. Although Willa's greatest hope is to be a ballet dancer, she agrees to her mother's desire for her to journey to England and take a small acting part in a major film production. Once on-site at Highbridge Hall, she learns the horrendous reason behind her mother's "request." Distraught, she makes a wish for happiness at the Hall's supposedly enchanted lake. When morning comes, Willa is still at Highbridge Hall, however the film's crew are no longer around. What in the world happened?
WISHES CAN COME TRUE
Ian Laydon, the Earl of Wrexham, returns to his father, the Marquess of Dunhaven's, estate, Highbridge Hall, after an exhausting tour of duty mediating at the Congress of Vienna. His father wants Ian to marry a neighbor's daughter, Arabella. Ian is a dutiful son; he plans to propose but his heart is unengaged. He wishes he could have a marriage as loving as the one his parents have. Oddly enough, right after his wish, he comes across an enigmatic young woman sitting against the granite bridge in front of him. Can she possibly be the answer to his wish?
Available soon! Order AN IMPOSSIBLE ALLIANCE ebook at Amazon.com.
Available soon! Order AN IMPOSSIBLE ALLIANCE ebook at Smashwords.com in various electronic formats.
Available soon! Order AN IMPOSSIBLE ALLIANCEin PRINT at Amazon.com.
---
5 Stars! One of the things I love about Susanne Marie Knight's time-travels is that she uses a different method of time-travel in each book. Here, the method is a lake enchanted by fairy folk. The protagonist is a contemporary young woman on the verge of adulthood who struggles to find her way in her unsympathetic world. Willa has very real concerns; she comes alive for the reader. The novel is filled with believable characters: from the consumed-by-duty hero; to the headstrong, flighty Regency miss; to the sullen cousin; to name only a few. For a magically different romantic read, head over to the enchanted lake and read AN IMPOSSIBLE ALLIANCE!--Regency Fiction World
5 Stars! AN IMPOSSIBLE ALLIANCE is a charming time-travel Regency, complete with vivid characters, an interesting plot, and set in 1815 with accurate historical details. The main character, Willa, is only eighteen. How she grows from an insecure teen to confident young woman took this particular reader back to her youth! I stayed up all night to read this one. Enjoy this trip back to the past!--Twists On Romance Reviews Fiction World Reviews
---
I eagerly awaited Ms. Knight's newest time-travel Regency and oh yes, I love AN IMPOSSIBLE ALLIANCE!--Reader Comment
---
Back to: MAIN PAGE