Greetings and Felicitations!
Take a trip back to 1813, when a masked affair was de rigueur!
An ancient time mechanism is accidentally activated,
sending modern-day Helene back to 1813.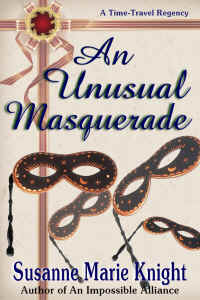 For Your Reading Pleasure
AN UNUSUAL MASQUERADE: A Time-Travel Regency Romance Novel
TIME FOR A CHANGE
Newly divorced Helene Madison is at a low point. No hubby, no job, no life. Ever hopeful, she accepts a temporary gig as a bikini bunny for a water photo shoot aboard a billionaire's yacht. Maybe her luck will change. After the owner shows her an ancient device discovered on a shipwreck, she touches one of the bronze gears. Disoriented, she trips and falls into the cold waters of the Atlantic. As she sinks deeper and deeper she wonders if her ticket's been punched, or will she get the second chance she wished for?
TIME TO TAKE A CHANCE
Basil Walker, Lord Hungerford, convalescing from an injury, accepts an invitation from the Duke of Eversham to take a jaunt on his schooner, Tempus Fugit, Times Flies. The Duke asks Basil if he would like to participate in an experiment dealing with time. Basil thinks his friend barmy but agrees. Why not take a chance? After all, nothing could possibly happen. All at once, both men see a figure bobbing in the vast ocean--a beautiful woman clad in tiny scraps of material. Can this "mermaid" actually originate from another time?
Available Now! Order AN UNUSUAL MASQUERADE ebook at Amazon.com.
Available Now! Order AN UNUSUAL MASQUERADE at Smashwords.com in various electronic formats.
Available Now! Order AN UNUSUAL MASQUERADE in PRINT at Amazon.com.
---
We don't usual read Regency Romances but this time-travel sounded too good to miss! Going back to 1813 via the ancient Greek Antikythera mechanism? Priceless! The author doesn't disappoint. In AN UNUSUAL MASQUERADE, contemporary Helene goes head to head with a 19th century baron and a duke of the realm. They are aware of her incredible journey, however she has to figure out for herself exactly what happened and how she can return to the 21st century. This is a very inventive tale. We experience, along with Helene, the proper way a lady is expected to dress, talk, and behave. Can she ever return to her original home? Read this novel to find out!--On The Edge Reviews
5 Stars and more! Once again Ms. Knight wows us with a completely believable time-travel method! Two ancient devices are linked by accident (or is it?) to plunge our protagonist into the prim and proper world of Regency England. Helene is a spunky heroine who attracts the staid and respectable hero, Basil. He, poor fellow, doesn't know what hits him when Hurricane Helene works her irrepressible magic on him. If you enjoy a happily ever after, there are at least three of these in AN UNUSUAL MASQUERADE. Don't miss!--Regency Fiction World
t
---
---
Back to: MAIN PAGE