Grave Future

A ghostly paranormal romantic suspense. What happens when an innocent tourist is stranded in an isolated cabin with a hostile stranger, an eerie fireplace, and a Shakespeare-quoting ghost?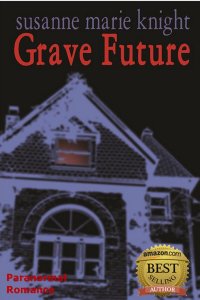 Re-Issued! New Cover!
Order electronic book at Amazon.com and Smashwords.com.
Order 2001 print version of this book (limited quantities!): Click here.
Reviewers are saying:
For GRAVE FUTURE: 5 STARS!! Well, this was a very good story. A great heroine, Jocelyn, and a wonderful hero, Dan. Throw in a helpful ghost and a despicable bad guy and you have got a story you won't want to put down!
Reviewed by DB, Amazon.com
A www.gottawrite.net FAVORITE! If you love the combination of a good mystery with a twist of paranormal, you'll enjoy this book. Although a fairly new writer on the scene, Ms. Knight could certainly compete with some of today's top writers. When Jocelyn is stranded in the middle of the Pocono Mountains, she is forced to spend the night in a creepy house located next to a cemetery. The owner is abrupt and rude and even locks her in her room that night! She soon sees a strange light and discovers that there is more to Dan than meets the eye. Has a local resident been murdered? And who murdered him? The characters are vivid, the plot holds you until the last page and the author is a rare gem.
Reviewed by Rose Melton,

Gotta Write Reviews
5 Stars!!!! GRAVE FUTURE was a fantastic book to read! I enjoyed every page of it! A real "ghost" story, as you can read seldom nowadays. Susanne Marie Knight did a wonderful job writing this novel, if you ask my opinion! You couldn't help but keep on wondering, the book contains one surprise after the other. If you think you have the answer to a question, you'll notice soon enough as you read on that more and more questions (and answers) will come to baffle your mind! And then I haven't even spoken about the "mystic" atmosphere you sense during the time you read this book... A real page turner combined with strong characters, a lot of mystery and a touch of love; this is a must read!
Reviewed by Sylvie, Euro-Reviews
Graveyards, secret tunnels, moldy smells, ghostly lights, and some frightening characters all make GRAVE FUTURE a creepy and scary romantic suspense. Jocelyn was hoping for days of relaxation but instead gets involved in a nightmare of fear; and Dan, hoping to get the goods on Perry for causing his cousin's death, is determined to find out the truth and put Perry behind bars. Both are interesting characters once Dan loses his surliness and readers meet the real Dan. The secondary characters are equally fascinating, Velma, who is mentally unstable, and her brother Perry, a drug runner who looks like an angel, but is evil personified. They both heighten the thrills and chills of the tale. The thought of living next to a graveyard is terrifying, but it certainly adds to the eeriness of this story. Reminiscent of an old gothic novel, but with a feisty heroine and a handsome hero in a modern setting, GRAVE FUTURE will provide several hours of reading enjoyment for readers of romantic suspense and/or paranormal romance.
Reviewed by Marilyn Heyman, Romance Reviews Today
The conclusion will get your heart pumping and maybe even raise the hairs on the back of your neck. For those of you who enjoy a modern-day romance with a good dose of a thriller mixed in, this book is definitely for you!
Reviewed by

Writers Club Romance Group
A fun read with touches of the paranormal, suspense, and romance blended by talented author Susanne M. Knight to make for a well told tale that will keep you reading. Recommended for a dark and stormy night when the wind is howling down the chimney and the house creaks in response. Enjoy. I did.
Reviewed by Anne K. Edwards, Mysteryfiction.net.
4 Stars! Susanne Marie Knight sure knows how to create a book packed with mystery especially one with ghosts and a woman so drugged up she thinks she has worms in her hair. There were some funny scenes that I liked, especially the Shakespearean ghost that keeps talking to Jocelyn. I especially liked Dan each time trying to keep cool when it's obvious he's attracted to Jocelyn. GRAVE FUTURE is definitely aptly named since the cabin is right next to a cemetery, the thought of which will give you chills to the bone. This is a great book to pick up and read as it is filled with suspense ending with a scene that will make you jump.
Reviewed by Lena C. Fallen Angel Reviews
This story has a Gothic atmosphere to it. This adds to the feeling of fear and suspense which the author handles admirably. The sexual tension is well-done, as is the danger and fear the heroine experiences. Recommended for anyone in need of a well-plotted thriller with a romantic edge.
Reviewed by
Defelah Morgan,

Scribes World Reviews
GRAVE FUTURE is more intriguing than most romances, with elements of danger, and mystery that are sure to keep you guessing throughout. ... A story of love, death, crime, betrayal and intrigue that will keep you hooked right to the end.
Reviewed by
Sandy Cummins,

Writers Exchange
3 out of 4 stars!! Knight did a wonderful job of meshing the transcendental thread into the story without it being outlandish. The slow development of Dan and Jocelyn's relationship was especially believable. I recommend this e-book to those who enjoy an intriguing romance with some celestial interference.
Reviewed by
Jennifer McCaig,

Inscriptions Magazine
4 Stars! I enjoyed this book quite a bit. Anyone liking romance, mysteries, and paranormal should find this book interesting.
Reviewed by Carol Castellanos,

Sime-gen, Word Weaving/Science Fiction, Fantasy, and Paranormal Romance Group
Believable romantic tension
Reviewed by Romantic Times BookClub
Back to: MAIN PAGE

FIVE Stars
Amazon.com


A Gottawrite.com FAVORITE
FIVE Stars
Euro-Reviews


Best-Seller
Fictionwise.com


Four Stars
Sime-Gen Reviews


Four Stars
Fallen Angel Reviews

Best-Seller
eBC eBook List