Competitors!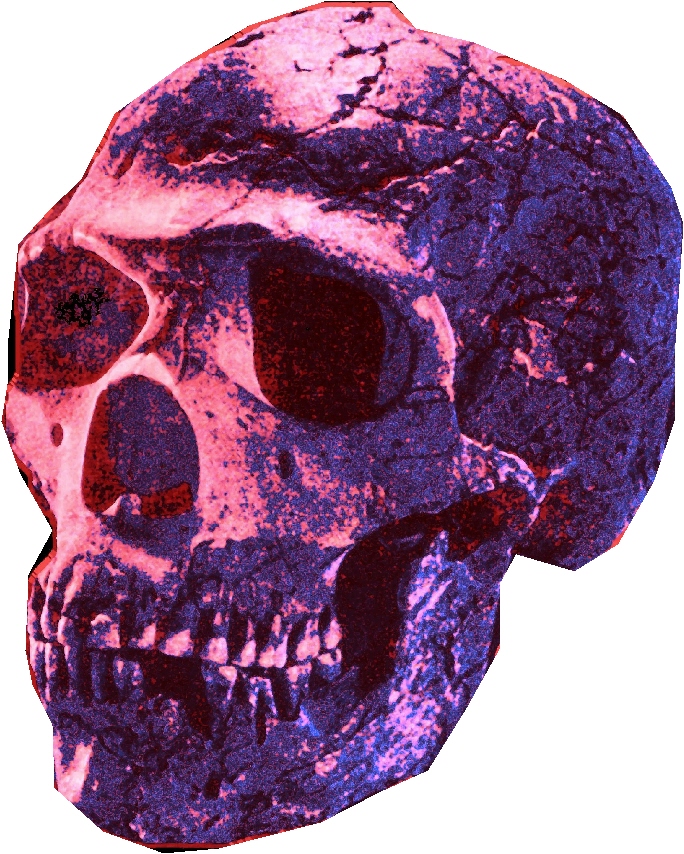 A paranormal romantic suspense. Anthropology enthusiast Vivianne Quinn gets more than she bargained for when she makes a date to "meet" a Neanderthal! Re-Issued!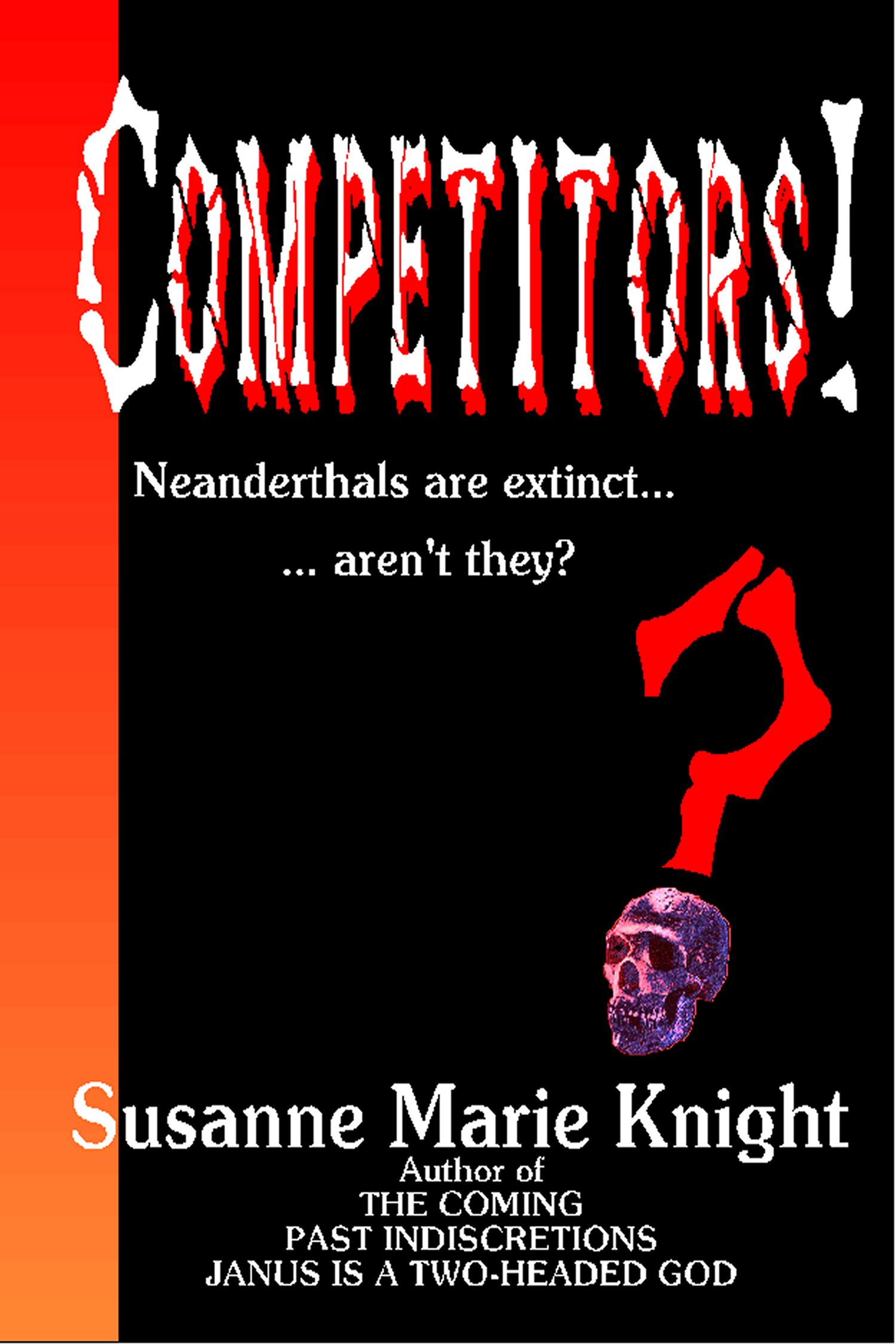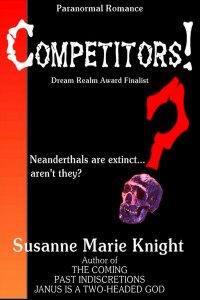 Re-Issued!
Order electronic book at Amazon.com and Smashwords.com.
Order 2006 print version of this book (limited quantities!): Click here.
See Susanne's book trailer on youtube.com. Just click!
Review for book trailer:
Competitors! by Susanne Marie Knight comes in the third spot for my favorites. If it had been in the form of a mini-movie I think it could easily have taken the first or second slot! I'm assuming the author created this trailer herself, and she did a fantastic job, I will be purchasing this book at the earliest opportunity. The pictures absolutely match the story, and the text frames that have been inserted before them. This doesn't always happen with book trailers that use static pictures and text frames. The creator also put outlines around characters, and objects in colors that really brought out what the pictures and text were trying to convey. A great book trailer and one I would love to see put into a mini-movie. You can view this book trailer here. --My Top Ten Favorite Romance Book Trailers from YouTube--Regina Paul
Reviewers are saying:
Nights and Weekend.com: "
Susanne's been chosen as one of the best e-book authors the Internet has to offer for COMPETITORS!
Susanne Marie Knight certainly has a diverse imagination, and she blends suspense with a haunting question--why did Neanderthals abruptly vanish 30,000 years ago--in COMPETITORS! But what if they're not extinct? What if they walk among us? This is a plot that can easily sound far-featched in the wrong author's hands, but Ms. Knight pulled it off, suspending my belief and wrapping me in an enthralling tale. You want an author with unique style? Susanne Marie Knight is your gal.
Reviewed by Nights and Weekends.com, Margaret Marr.
4 1/2 stars! I liked COMPETITORS! I have read other books about Neanderthals and this species never came across as anything other than primitive. The Neos in this book are caring, gentle people who value their ancestors and want what everybody wants in life--to be loved and understood. I enjoyed the growing awareness and romance between Vivianne and Max. Despite their differences and the dramas they are living through, there is a bond between them that neither can deny. It was amusing to think that the Neos consider Vivianne and her people savages. The derogatory term of calling someone a Neanderthal may not be so bad after all. It's always good to see history turned on its head. I also liked the fact that the killer is not known until the end. I thought I knew who it was but I was wrong. The book also got me wondering if there are Neos among us. There are weirder things out there. If you enjoy books that are beyond the normal, then I would recommend COMPETITORS! It's a fresh, unique romance that is kind of sweet and overwhelmingly passionate.
Reviewed by Once Upon a Romance Reviews, Janet Davies
4 cups! This was a very creative look at what could have happened to the Neanderthals. All the characters provide a full array of personalities that keep the book interesting. The romance is based on the strong sexual tension and emotional pull between Max and Vivianne. While the physical aspects are primarily left to the reader's imagination, their feelings are openly demonstrated. The numerous subplots move the story and support the romantic plotline. But the originality of the story impresses me the most. Writers who can successfully finish the "what if" in a logical and fascinating way are few, but Ms. Knight succeeds here. COMPETITORS! is a great book for those who love a good suspense and a romantic twist, and those who enjoy a good romance with a well written paranormal base.
Reviewed by Coffee Time Romance Reviews, Anya Khan
A fun read I recommend to anyone who enjoys something different, something that offers a new outlook and new background for the characters. This tale fits into many genres and will provide hours of pleasant reading. Talented author Susanne Marie Knight gives us a multi-layered story and a new look at the mystery of the Neanderthal's disappearance. Or did they? Enjoy, I did.
Reviewed by MysteryFiction.net, Anne K. Edwards
Could Neanderthals still exist? And if so, would they look just like the rest of us? Susanne Marie Knight takes those questions and runs with them in COMPETITORS! and shows us that not everyone is what they appear to be. When readers first meet Vivianne, she is a tormented young woman who constantly wonders why she didn't also die in the car crash. But as the book progresses, she becomes the strong woman she must have been before the accident. As for Max... Max, Max, Max. What a combination of alpha maleness and intelligence, which this reviewer believes will cause many women to swoon. He's dominating, yet gentle, and treats Vivianne with great respect. An interesting and fun-filled romance, COMPETITORS! is the perfect read for those looking for something a little different in their love stories.
Reviewed by Romance Reviews Today,

Courtney Michelle
Author Susanne Marie Knight has done a convincing job of making the exotic Max as hypnotic and flat-out irresistible as he needs to be, to accomplish everything he is called upon to do. Max isn't only a sex hunk, he is smooth, educated, and well traveled. He can communicate mentally, and his sense of smell gives new definition to the word "intimate." Knight will have readers knocking on her door asking where they can get their own Neanderthals.... COMPETITORS! is well thought out. Knight has more than a superficial knowledge about Neanderthals, and she used it to shape her what-if into a fun, original plot.

Reviewed by Reviewers-Choice, Joy Calderwood
COMPETITORS! is a fast paced read, with a very well written cast of characters that support and play up each other. Good attention paid to the details, so one can understand the differences between the characters and the races involved. Susanne Knight has granted her audience fantasy and mystery combined with a science fictional blend along with a romantic edge to satisfy most any reader's taste.
Reviewed by TCM Reviews, RIP
Back to: MAIN PAGE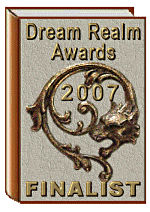 2007 Dream Realm Finalist for Best Speculative Fiction Romance
One of Best E-Book Authors on Internet
Nights and Weekends.com


#1 Best-Seller
Fictionwise.com


4 1/2 Stars
Once Upon A Romance Reviews


4 Stars
Coffee Time Romance Reviews