Greetings and Felicitations!
"Science fiction romance doesn't get any better than this!"

For Your Reading Pleasure
JANUS IS A TWO-HEADED GOD: A science fiction romance. What happens when the Human leader at Milky Way's core has a run-in with a headstrong female from the despised planet Earth?
Seeking a cure for her sick brother, Sophia must leave her beloved Earth to journey into the unknown. What she finds is a hotbed of galactic intrigue... plus a love that transcends the vast expanse of space. Can she persuade the man of her dreams that love can be forever?
JorVaal 5 Lanquist has an imminent galactic catastrophe on his hands, but must put everything on hold because of a headstrong female from the despised planet Earth. Will he be able to set aside age-old prejudices and admit the peculiar feeling in his heart is actually an ancient emotion called love?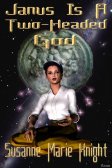 Nominated for the 2002 Quasar Awards Best Cover!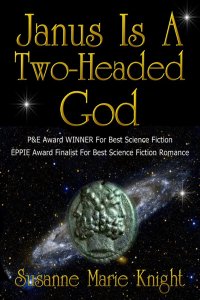 Re-Issued! New Cover!
Order electronic book at Amazon.com and Smashwords.com.
Order 2002 print version of this book (limited quantities!): Click here.


JANUS IS A TWO-FACED MOON is another book in the Janus World series!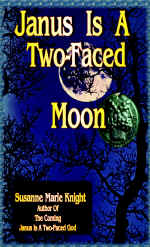 JANUS IS A TWO-HEADED GOD's SETTINGS
2452. Greater Missouri, Earth.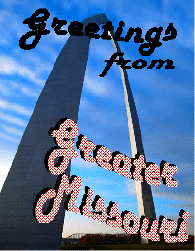 2452. Xaspaar City, Xaspaar, Milky Way Galactic Core.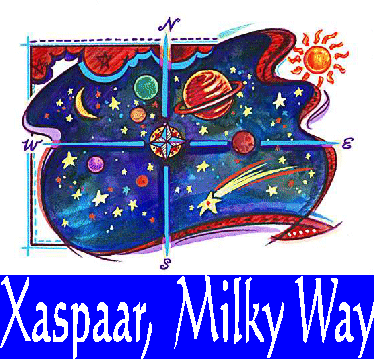 JANUS IS A TWO-HEADED GOD's Main Characters
Sophia Audrey McLaren (Sam), unicopter factory worker, and JorVaal 5 Lanquist, one of the triumvirate leaders of the Galactic Core Coalition, look forward to making your acquaintance!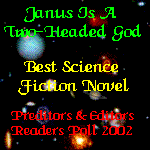 2002 P & E Award for Best Science Fiction Novel
Readers Poll Award

2003 EPPIE Finalist for Best Fantasy / Paranormal / Science Fiction Romance
EPIC Award


2002 Golden Rose Award for Best Science Fiction / Fantasy
Reader Choice Award



#1 Best-Seller
Fictionwise.com


Four Stars
Sime-Gen Reviews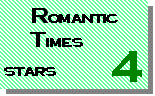 Four Stars
Romantic Times Magazine


4 Roses
A Romance Review