Janus is a Two-Headed God
| | |
| --- | --- |
| | A science fiction romance. What happens when the Human leader at Milky Way's core has a run-in with a headstrong female from the despised planet Earth? "Science fiction romance doesn't get any better than this!" |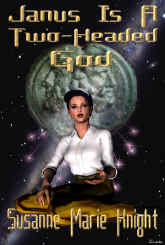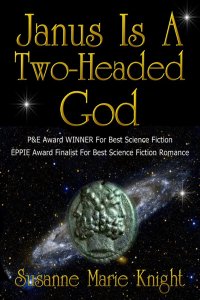 Re-Issued! New Cover!
Order electronic book at Amazon.com and Smashwords.com.
Order 2002 print version of this book (limited quantities!): Click here.
Readers are saying:
Your JANUS series is wonderful! I love both books and am anxious for number 3!!--D.T.
I started JANUS IS A TWO-HEADED GOD at my son's football practice, and I got so grossed, I couldn't stop reading. The game was over before I was ready to leave!--Sandy C.
JANUS IS A TWO-HEADED GOD had an exciting new world. What a story!--Deborah
JANUS is wonderful! I didn't know what to expect and... wow! Couldn't go to bed until I finished it. Great book!--L.U.
I thought [JANUS] was just phenominal! Thanks for writing such a fantastic book!-K.B
I stayed up into the night to finish! I loved JANUS!--C.A.K.
I loved JANUS IS A TWO-HEADED GOD! Will there be a sequel?--J.P.
JANUS is just the kind of book I love to read. Well-done!--D.C.
Science-fiction romance doesn't get any better than this. All I can say is WOW!--C.K.
What a superb opening! I was hooked right from the beginning.--R.H.
I didn't want JANUS IS A TWO-HEADED GOD to end!--K.P.
I enjoyed LORD DARVER'S MATCH. Now I can't wait to read JANUS!--C.C.

JANUS IS A TWO-FACED MOON is another book in the Janus World series!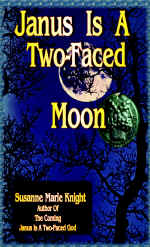 Back to: MAIN PAGE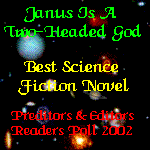 2002 P & E Award for Best Science Fiction Novel
Readers Poll Award

2003 EPPIE Finalist for Best Fantasy / Paranormal / Science Fiction Romance
EPIC Award


2002 Golden Rose Award for Best Science Fiction / Fantasy
Reader Choice Award



#1 Best-Seller
Fictionwise.com


Four Stars
Sime-Gen Reviews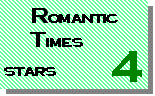 Four Stars
Romantic Times Magazine


4 Roses
A Romance Review