Romance de viagem no tempo!
A Caixa Mágica: Romance de viagem no tempo--Versão em Português! Rae Santini planeja encontrar uma maneira de se curar. O que ela não sabe é que ela deve viajar de volta ao passado para faze-lo.
Ebook: Amazon.com
Print: Amazon.com
---
5 estrelas Uma história de amor envolvente e apaixonante!
Este é o primeiro romance de viagem no tempo que li e me prendeu do começo ao fim.
Rae Santini está sofrendo com a perda de seu pai e dezoito anos depois ela tem que passar pelo luto novamente quando perde sua mãe e depois sua tia mais querida.
Um presente especial que ela recebeu pelo correio de sua tia recentemente falecida a lança em uma busca para curar a si mesma e a outras pessoas com quem ela se preocupa profundamente, viajando no tempo para a Inglaterra do século XIX.
Ela encontra o amor no processo e luta para tomar a decisão mais importante de sua vida.
A história é envolvente e surpreendente. A autora nos transporta para o século XIX com uma habilidade magistral. Eu amei!
FIVE STARS! I just love time travel romance... This book is just what I needed, a true time travel romance, none of that crazy stuff. Great story and I loved every minute. Booklover!
FIVE STARS! Enjoyed the story. I would recommend this book to anyone. I will be looking forward to any other books from this author that are at least like time travel. T. N.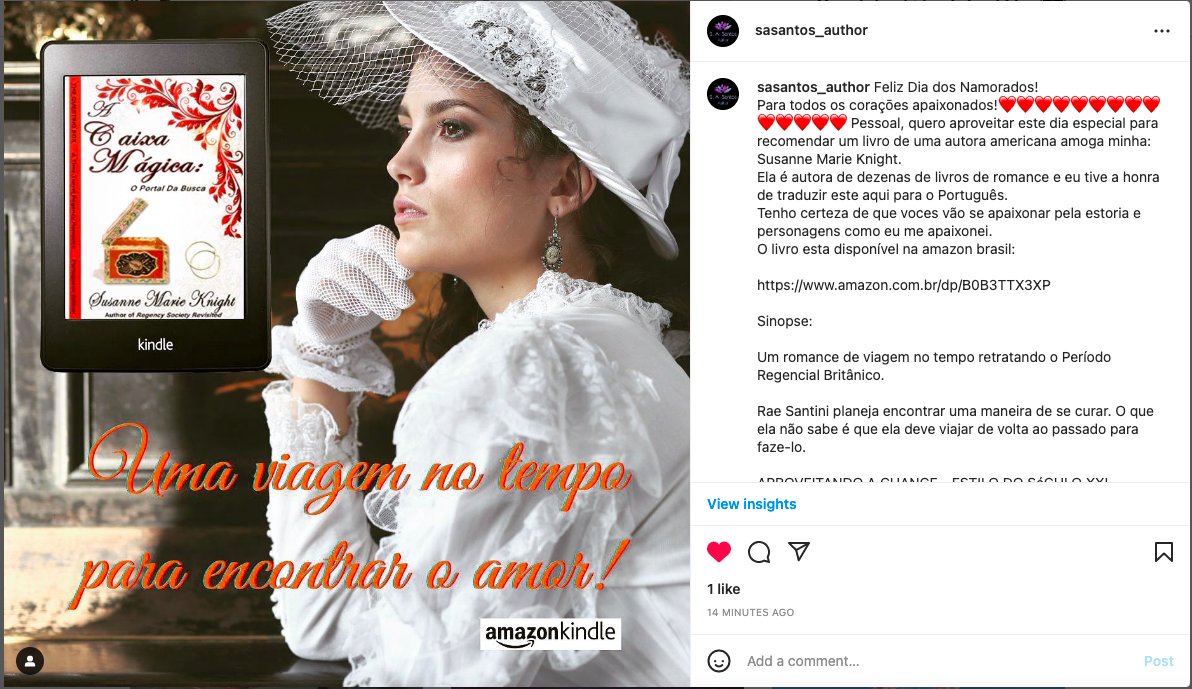 ---
FIVE STARS! I love time travel romance; Somewhere in Time is my very favorite movie. This book by Susanne Knight ranks right up there. Once you start, you won't be able to put it down! Do yourself a favor and indulge in this one. You won't be sorry! N. N.
FOUR STARS! A trip through time! I really enjoyed this book. I enjoy time travel romances and this was a great book to read on a quiet afternoon. C. G.
Back to: MAIN PAGE