Greetings and Felicitations!
AN ADVENTURE OF A LIFETIME... OR PANDORA'S BOX?
For Your Reading Pleasure
THE QUESTING BOX: A Time-Travel Regency Romance. Rae Santini plans to go on a quest to heal herself. What she doesn't know is that she must travel back to the past to do it
TAKING A CHANCE--TWENTY-FIRST CENTURY STYLE--As the adult child of an alcoholic, Rae Santini struggles with unnecessary guilt. If only she was a better person. If only she could have helped her father. If only he hadn't died. So when a Questing Box comes her way, she longs to turn back the clock to save him. But she had been just eight at the time of his death; she hadn't been ready to embark upon a healing journey. Eighteen years later, the mysterious box is gifted to her. She figures she has nothing to lose so she opens the box...
TAKING A CHANCE--NINETEENTH CENTURY STYLE--James Bonnell, the Earl of Blackburne, dreads returning to his family's estate for Christmas. His parents, the Marquess and Marchioness of Litchfield, not only belittle his political career, but most urgently insist that he marry to beget an heir. As it turns out, he had intended to bring home a bride, however the "lady" in question is too free with her favors. Disheartened, James is on his way to Litchfield when he encounters an unconscious Rae. He quickly bundles her up and takes her to a nearby Gypsy encampment. A risky idea then comes to mind. Perhaps this attractive wood nymph will consent to a masquerade and act as his countess... just for the holidays?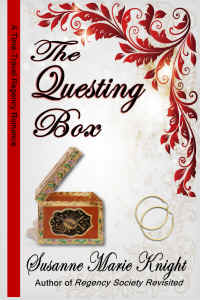 Order electronic book at Amazon.com and Smashwords.
Also available in Portuguese! A Caixa Mágica
---
FIVE STARS! I just love time travel romance... This book is just what I needed, a true time travel romance, none of that crazy stuff. Great story and I loved every minute. Booklover!
FIVE STARS! Enjoyed the story. I would recommend this book to anyone. I will be looking forward to any other books from this author that are at least like time travel. T. N.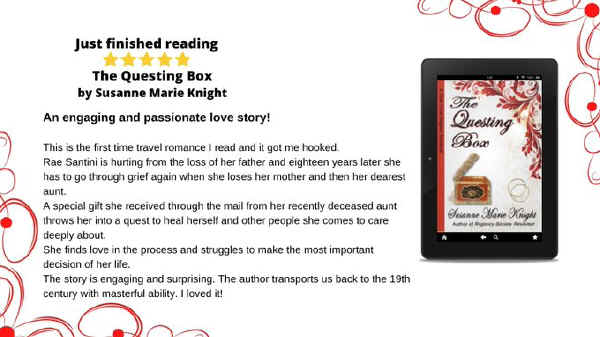 ---
FIVE STARS! I love time travel romance; Somewhere in Time is my very favorite movie. This book by Susanne Knight ranks right up there. Once you start, you won't be able to put it down! Do yourself a favor and indulge in this one. You won't be sorry! N. N.
---
FOUR STARS! A trip through time! I really enjoyed this book. I enjoy time travel romances and this was a great book to read on a quiet afternoon. C. G.
Back to: MAIN PAGE