Love At The Top

A sexy and smart contemporary romance! When the man of Cassidy's dreams finally appears, why does he turn out to be her arrogant, new boss?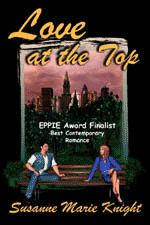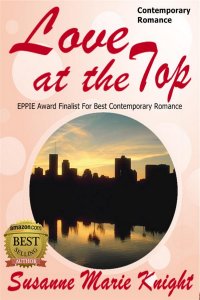 Re-Issued! New Cover!
Order electronic book at Amazon.com and Smashwords.com.
Order 2002 print version of this book (limited quantities!): Click here.
Readers are saying:
5 STARS! Amazon Reader
Recommended reading! LOVE AT THE TOP, A CONTINENTAL MARRIAGE, and LORD DARVER'S MATCH. I thoroughly enjoyed these books.--Maggie T.
I really enjoyed LOVE AT THE TOP--Jenny-T.
LOVE AT THE TOP: I read your book and really enjoyed it.--Barbara W.
Due to my work I am very often in the states, waiting sometimes hours for connection flights back to Europe. In December 04 I bought your book LOVE AT THE TOP, started to read it and finished it during the flight back to Bologna Airport. Afterwards, impressed from this novel, I gave the book to my wife and she enjoyed your book too.--Ulrich H.
LOVE AT THE TOP is a great story. I enjoyed it. --J.G.
Thank you for books like LOVE AT THE TOP--E.E.
I started reading LOVE AT THE TOP and stayed up all night to finish it. Loved it!--E.L.
Recommended reading!--L.B.
I enjoyed reading LOVE AT THE TOP!--J.D.
Susanne, Great Job, made a smile come to my face even though the day has been exceptionally bad. :)--Noreen P.
This book is fantastic! I've recommended it to all my friends.--K.P.
I loved the characters and truly enjoyed reading LOVE AT THE TOP.--R.P.
A modern day Cinderella story. I couldn't put the book down!--E.T.
Thank you! I read your book while recuperating from surgery and it helped me to forget I was in pain!--L.M.B.
I was so engrossed in the story! LOVE AT THE TOP is wonderful!--L.M.
Emotional punch and excitement!--L.B.
Strong emotional appeal, realis
tic characters, believable compelling conflict, and an engaging writing style.--S.B.
Back to: MAIN PAGE

2003 EPPIE Finalist for Best Contemporary Romance
EPIC Award

5 Stars
Amazon.com Reviews


#1 Best-Seller
Fictionwise.com, Awe-Struck, and NovelBooks.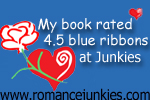 4.5 Stars
Romance Junkies Reviews


4 Stars
Scribes World Reviews