Tainted Tea For Two

A murder mystery romantic suspense. Someone wants Lord Embrey dead. Will the method of execution be by poison, or injection, or... potato??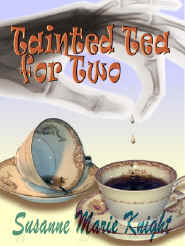 Judith B. Glad, Artist
Order electronic book at Amazon.com and other internet locations.
TAINTED TEA FOR TWO was previously published by Hard Shell Word Factory. To order print copy of 2001 edition, click here.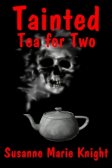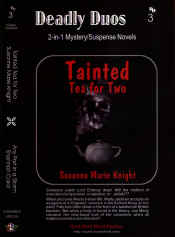 See Susanne's book trailer on youtube.com. Just click!
Readers are saying:
FIVE STARS for TAINTED TEA FOR TWO: Excellent! I truly enjoyed this story. I had a small idea who did it half way through but was not completely sure until the end. I would recommend to those who enjoy a light hearted murder mystery romance.--D.B. Amazon.com.
Amazon's Listmania: for TAINTED TEA FOR TWO--recommended cozy mystery!--M.A.
TAINTED TEA FOR TWO is so good!--Chris G.
Love your Brit-lit: Regency, Time-Travel & Contemporary (Tainted Tea). All are terrific!--Andrea S.
I love TAINTED TEA FOR TWO!--L.E.
I couldn't figure out who the intruder was. What a surprise!--J.D
I love TAINTED TEA FOR TWO!--L.E.
Very English, very funny, with interesting character interplay. Kept me laughing and guessing, laughing and guessing...--M.B.
I read TAINTED TWO FOR TWO with a good deal of pleasure. It's a neat idea, and I liked the characters. This is a very clever concept. Your opening is great! One couldn't help to read the book on that basis and basis alone. Cheers to you!--B.W.
I kept guessing all the way to the end and I thought someone else was the murderer. Wonderful!!--B.K.
I loved TAINTED TEA! What a wonderful homage to Agatha Christie!--M.W.
Now that TAINTED TEA is in paperback, I'm ordering another copy!--C.K.
Back to: MAIN PAGE

2008 ARIANA Award WINNER for Best Contemporary / Suspense / Mystery / Historical Romance Judith B. Glad, Artist

2007 Cameo Awards nomination for the Best Romantic Suspense in the Amateur Division


#1 Best-Seller
Uncial Press & Hard Shell Word Factory & Fictionwise.com

FIVE Hearts
The Romance Studio


Word on Romance Reviews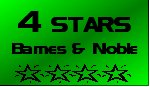 FOUR Stars
Barnes & Noble


Four Stars
Affaire de Coeur Magazine


Four Daggers
All About Murder Reviews