Greetings and Felicitations!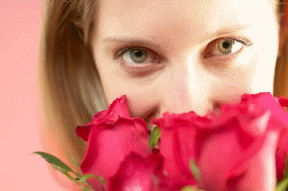 What will the Earl of Tremaine do when he discovers his page's shocking secret?
For Your Reading Pleasure
PAGING MISS GALLOWAY: a Regency romance. A determined young miss, a battle-weary lord, and a reckless masquerade. RE-ISSUED!
More Than She Bargained For: Danielle Galloway is determined to visit her convalescing brother. She won't let her father's lack of permission stand in her way. Disguising herself as Danny, a servant boy, she takes to the road to begin her grand adventure...only to have her money stolen and her face battered by street ruffians. Now how will she get to the resort town of Bath?
More Than He Bargained For:
The Earl of Tremaine rescues a down-on-his-luck young lad. Against his better judgment, he takes Danny on as his page as he journeys to Bath. But this boy harbors a shocking secret. What's the earl going to do when he discovers his latest act of kindness might hurl him into the parson's mousetrap?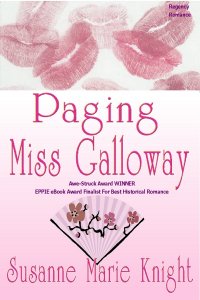 RE-ISSUED!
Order electronic book at Amazon.com and Smashwords.com.
See Susanne's book trailer on youtube.com. Just click!
Reviewers are saying:
5 Angels!
Regency fans will recognize the storyline. A lady disguised as a boy. A lord attracted to the disguised girl. The high jinx that ensues. Except there are enough twists and turns from the standard story to keep Paging Miss Galloway interesting... Paging Miss Galloway is a delightful Regency read."
Reviewed by Fallen Angel Reviews, Kimber
Top Pick Award!
Danielle is a character that you can't help but to be drawn to... Her drama along the way was amusing... PAGING MISS GALLOWAY was never boring... This was not a long story, which gave me more incentive to read it fast to see how the ending turned out. I was not disappointed.
"
Reviewed by Romance Reader at Heart, Shelia Smith
4.5 Books!
"
Paging Miss Galloway is a lighthearted novel of regency times... I found this book very entertaining and enjoyable. I could feel an invisible string drawing the characters closer to each other, while each fought to maintain the distance required by their positions in life... the writing was strong and easy to read. I would recommend this book to lovers of Regency, especially those with a sense of humor."
Reviewed by Long and Short Reviews, Orchid
4.25 Stars! Susanne Knight does a wonderful job of weaving a story of two mismatched lovers who quickly have readers hoping for them to find their way to each other. This is a wonderful romp through Bath that leaves the reader eagerly turning pages to see what Danielle and Edward will do next. ... This wonderful Regency romance ... leaves us wanting more.

Reviewed by Night Owl Romance Book Reviews, Danya
4 Shamrocks! This was a light read with what seemed two mismatched leads making for some very humorous moments. It was shored up with the addition of Tremaine's best friend Xavier Raleigh whose sometimes ribald comments put the blush on Danny's cheeks, a clue which helped Tremaine figure out just what seemed off about his page.
Bottom line: This was a wonderful romp through Regency England complete with mild sensuality that was fun and leaves the reader thoroughly entertained.
Reviewed by CK2S Kwips and Kritiques, Marilyn Rondeau – Reviewers International Organization (RIO)
4 Stars: You Need to Read! Paging Miss Galloway by Susanne Marie Knight is an irrepressibly fun comedy of hidden agendas and mistaken identities all done in the tradition of the late, great Georgette Heyer... Ms. Knight does an exceptional job of keeping the tension uppermost in her readers' minds as she keeps Danny from revealing her true identity to Edward while we watch her feelings for him grow deeper. The multiple subplots embedded within the story are a great literary technique. Rather than detracting from the main theme of love recognizing its match in spite of life's obstacles, the subplots only add to and bolster the story even more. I found Paging Miss Galloway to be a very entertaining and enjoyable romance, just the right book to read when you want to relax for a few hours, and escape in the past.
Reviewed You Gotta Read Reviews, Mickey
PAGING MISS GALLOWAY is a cute Regency tale of disguises, deception, and unexpected love... A fun, quick read!
Reviewed by Joyfully Reviewed, Cassie

2010 EPIC Award Finalist for Best Historical Romance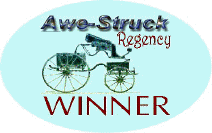 Regency Winner
Awe-Struck.com


#1 Best-Seller
Awe-Struck.com & Fictionwise.com


FIVE Angels
Fallen Angel Reviews


Readers Top Pick Award
Romance Reader At Heart Award

4.5 Books
Long and Short Reviews

4.25 Stars
Night Owl Romance Book Reviews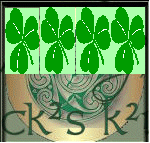 4 Shamrocks
CK2S Kwips and Kritiques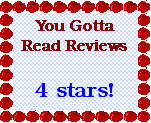 4 Stars
You Gotta Read Reviews