Greetings and Felicitations!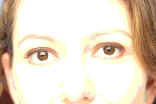 That touch of Minx!
Who is Minx Tobin, you ask? Minx is a fitness instructor newly relocated to Los Angeles, California, who has a knack for solving puzzles--puzzles concerning dead bodies. For fun, romance, and... unexpected corpses, follow her adventures in this murder mystery series!
For Your Reading Pleasure
THE YULETIDE YORKSHIRE: A Minx Tobin murder mystery romance. Minx finds something unexpected under the Christmas tree. Unfortunately, it wasn't left by Santa.
Ho, Ho, Ho... OH!
Home for the holidays, Minx Tobin introduces her parents to her homicide lieutenant, Gabe Harris. Unfortunately for her, her ex-fiancť Jared drops in on them, creating friction. But Jared soon needs Minxís help in the sleuthing department because a gruesome ďpresentĒ is found under the tree. Once again, Minx is hot on the trail of a desperate killer.
All Gabe wants to do is propose to the woman he loves. Instead, he has to deal with a cast of East Coast characters, including an unexpected murder. Why do dead bodies always seem follow Minx Tobin??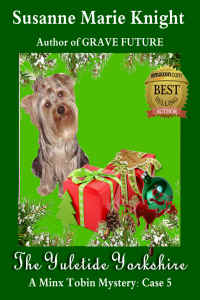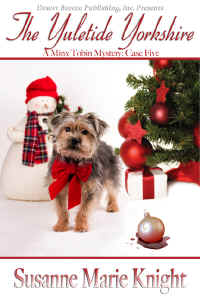 The MINX TOBIN Murder Mystery Series was reissued! All 6 books are now available at:
See Susanne's book trailer on youtube.com. Just click!
CASE ONE--THE BLOODSTAINED BISTRO
CASE TWO--THE ILL-GOTTEN INSURANCE
CASE THREE--THE DUPLICITOUS DIVORCE
CASE FOUR--THE VIRTUAL VALENTINE
CASE SIX--THE EMBEZZLED ENVELOPE
---
4 1/2 STARS! Once more Minx finds herself in the middle of the action, but this time she has the help of an experienced police officer to wade through the clues. Add to the mix an intelligent Yorkshire terrier who knows exactly where all the bodies are buried, and you have a team that cannot be beat. With lots of humor to keep things lively, Ms. Knight has the reader guessing until the she reveals the killerís identity."--Sensual Reads
4 STARS! "This is Minxís fifth case, but itís the first time Iíve read this authorís work. Ms. Knight does a nice job of creating a cozy mystery that's a bit unusual. Who expects your next door neighbor to be shot to death? She gives you enough suspects, all with motive, so itís not obvious right away who the culprit is. The author writes a story that flows well and includes some jealousy because the next door neighborís son was once engaged to Minx and Gabe isnít sure the attraction is completely over. As Gabe works with Minx to solve this murder, the local cop is unhappy because they are messing in his case and heís acting a bit funny towards Minx, too. Poor GabeÖ The author writes a good drama/trauma story with almost everyone being a bit guilty for some reason. She also gets you into the romance between Minx and Gabe and you find yourself hoping neither one of them will be bullheaded enough to ruin their budding romance. Ms. Knight kept my attention and kept me reading to see just how she would end the story. I was not disappointed. If you like a good cozy mystery, get a cup of tea and find a comfortable chair. This one will fill the bill for you. Why not see if you can identify the murderer before Minx? I think youíll be surprised by the way it turns out."--Long and Short Reviews, Aloe
---
I love Minx Tobin! My favorite Who-Done-It series!--S.C.
This is a great mystery!--C.B.

Back to: MAIN PAGE

4.5 Stars Sensual Reads

4 Stars Long and Short Reviews